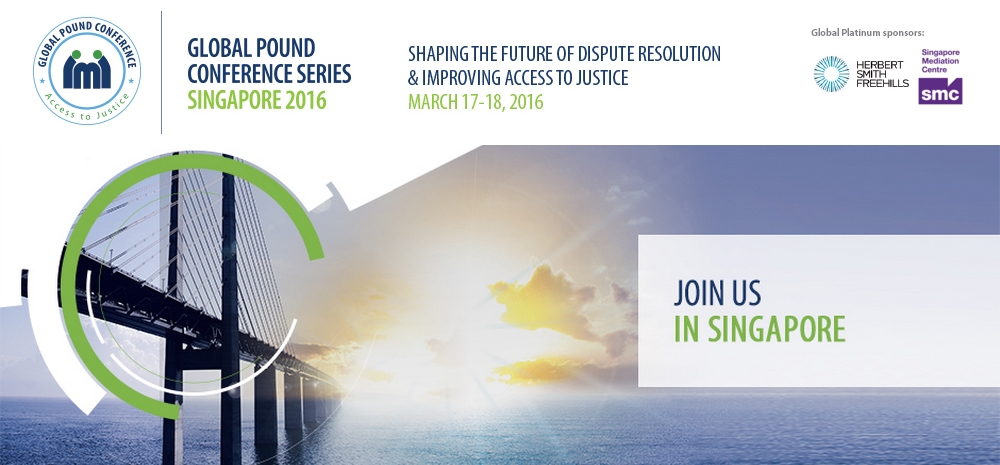 Lend your voice, shape a legacy!
The Global Pound Conference (GPC) is the place for you to meet like-minded and passionate individuals and stakeholders to discuss the future of dispute resolution and access to justice.
Launching in Singapore in March 2016 and ending in London in 2017, the GPC series will convene all stakeholders in the field of dispute resolution around the world to expound upon key challenges in Appropriate Dispute Resolution (ADR) of interest and relevance to all. Whether you are a dispute resolution user, mediator, lawyer, judge, arbitrator, academic or student, you will not want to miss this golden opportunity!
The exciting 2-day inaugural GPC Singapore 2016 held at the Supreme Court of Singapore from 17 to 18 March 2016 will provoke debate on existing tools and techniques, stimulate new ideas and generate actionable data on the needs of corporate and individual dispute resolution users, both locally and globally.
Come listen to eminent international and local speakers. Join them to shape the future of dispute resolution and improve access to justice by providing your input! You will also attend a diverse range of engaging sessions held concurrently on what matters most to you, be it Court ADR, Arbitration, Online Dispute Resolution or Neuroscience in ADR. There will also be networking opportunities to interact with local and international stakeholders through panel discussions, interactive sessions and informal engagements.
Come and join us now! Please click here to see programme outline.